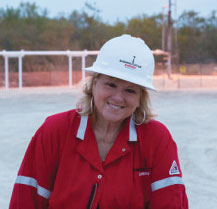 Contact Information:
(210) 213-5678
Overview:
Sondra L. Grohman and Shining Star ENERGY are synonymous in character and in nature. Grohman is a trailblazer as a woman in both the automobile industry and the globally acclaimed Eagle Ford Shale oil play in South Texas.
Grohman amassed 28 years of success in the automobile industry before surging forward as an active force in the oil and gas industry. As a master of negotiation, development, management, and operations, Grohman became one of the most successful women in two of Texas' male-dominated industries.
Her strong work ethic and willing servant's heart has compelled her to support the community in many ways. Grohman's mantra is to be the mojo and hand up for the oppressed, the abused, the silent voice, and for higher education.
Strong examples include Grohman's service as a member of the board of director's for Dress For Success, Career Gear SA and Opera Piccola; and as the vice chair of corporate business development for the San Antonio Women's Chamber of Commerce. She serves on the Academy of Creative Education Council (Northeast School District — Scholarships) and also sponsors the Alamo Valero Bowl Shining Star ENERGY youth football clinic. Grohman is also the top buyer at the San Antonio Rodeo & Stock Show, where AG children's animals are brought and sold. Grohman is also a strong advocate of Family Services Association and Girls, Inc. She continues to mentor local high school girls that have hopes of one day becoming a business owner and contributes a $10,000 scholarship for their business plan competition.
Awards & Nominations
· National Association of Women Business Owners (NAWBO) Entrepreneurial Spirit Award
· Finalist for the United Way Volunteer of the Year Award – Unsung Hero
· San Antonio Business Journal 2015 Women's Leadership Award
· San Antonio Women's Chamber of Commerce Constellation of Stars Award
· Recipient/Inductee for San Antonio Women's Hall of Fame