Do you know where Coach Pop was the night after the Spurs season ending game? We do…he was dining at Bliss in Southtown, and after experiencing the restaurant, we completely know why he chose to spend his first off- season evening there.  After all, at the end of a long, hard week, it is good to be at a place known for warm hospitality.
Bliss, located at 926 S. Presa St., is comforting for many reasons. It is the ultimate blend of everything we need for a memorable, soothing, dining experience. The first difficult decision is where to sit. Outdoor patios provide that Southtown-feel among lush landscape, but the intimate dining room embraced in distressed brick is perfect for a touch of French-country.
Once seated, prepare for the talented waiter or waitress to become a best friend. Attentive friendly service is a major reason we will return. After asking several pointed questions, she selected a trio of wines for us to taste and was spot on as to what we would enjoy. We began our meal with the recommended Oyster Sliders and they lived up to everything we had been told by friends…delicious. The crispy fried gulf oysters are served with candied bacon, spinach, chives, brown butter hollandaise on buttermilk chive biscuits.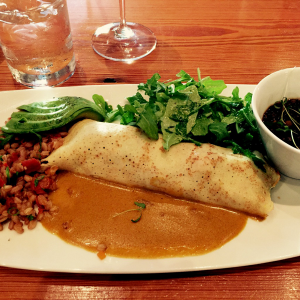 Selecting dinner entrees was more difficult as so many sounded excellent. Chef and proprietor, Mark Bliss, is known for changing the menu often to reflect seasonal, creative, new recipes. His talents are evident in all the details which make the entrees unique to Bliss. We chose the Vegetarian Enchilada (amazing tomatillo chipotle sauce), and George's Bank Sea Scallops seared and served with pepper jack-white cheddar Anson Mills grits, sautéed spinach, avocado mouse, and cilantro lime jalapeno beurre blanc.   Both were light enough to split a piece of apple pie with cinnamon ice cream afterwards. This is definitely comfort food.
And at the end of a stressful work week, we need a place to unwind like Bliss…wrapped in the welcoming arms of smiles, exquisite wine, and amazing food. Right Pop?