This post was originally published on this site
(Family Features) Businesses that run efficiently often find continued, long-term success. However, running a small business comes with a multitude of challenges that can hinder productivity.
Between hiring employees, managing payroll, handling customer relations, delivering products, meeting with staff and other tasks, it's important to take steps to help your business work smarter, not harder, while maintaining productivity. More efficient workdays mean more projects or tasks can be completed, giving you an advantage in a competitive marketplace.
To help improve productivity and create a more efficient work environment, consider these tips from the experts at Pitney Bowes, a global shipping and mailing company that has worked for more than 100 years to provide technology, logistics, financial services and solutions that help enterprises thrive and small business owners operate right from their homes including the PitneyShip Cube, which simplifies shipping packages and e-commerce orders while saving time and space.
Set Goals
Setting goals for your operation is vital to building a productive business and ensuring your employees understand your vision and how they can actively contribute to the company's success. Whether you're a startup or an established business with multiple employees, set realistic, well-defined goals that are in line with your business strategy, like investing in office tools and solutions that can help you discover efficiencies. Periodically revisit those goals to ensure you're on track to meet them and make any adjustments as necessary. For example, working from home may provide an opportunity to save on rent and enable you to allocate those savings toward upgraded office equipment.
Delegate Less Critical Responsibilities
Remember, you can't do it all by yourself. In the same way it's important to prioritize your list of tasks, delegation is key to improving productivity. Passing on some of the work, such as designing email templates, writing blog posts, creating white papers and more, to your employees allows you to maximize your limited time. Think through additional ways for others to lessen the load, like using a cloud-based shipping solution to streamline the process and ensure alignment in task sharing. Even if you're a solo entrepreneur, look at what tasks you may be able to outsource to a third-party vendor to free up some of your time.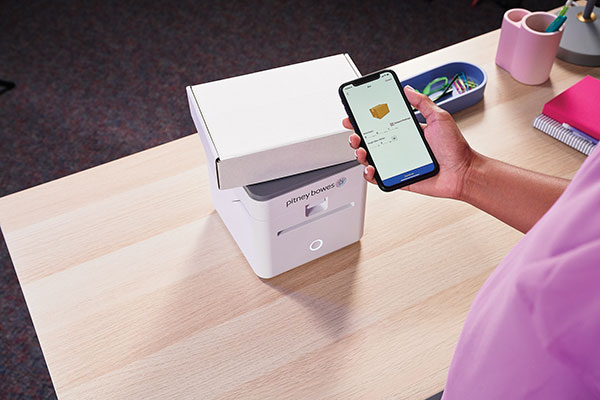 Simplify Shipping
If your business sells a product, shipping may be a time-consuming, expensive part of your operation. Leave the post office behind and save valuable time with an option like the PitneyShip Cube, an all-in-one, Wi-Fi-enabled thermal shipping label printer with a built-in scale. It includes companion software and can integrate with your current online store to automatically import order details then easily print the shipping labels and postage. You can weigh packages, compare discounted shipping rates and automatically share tracking notifications via email.
"One of the biggest barriers for small businesses are shipping costs," said Shemin Nurmohamed, president, sending technology solutions, Pitney Bowes. "Our goal is to allow clients to take advantage of what larger shippers get in terms of discounts while saving them the critical time they need to work on their core businesses. With the PitneyShip Cube, the first shipping label printer of its kind with a built-in scale and companion software, users are able to ship faster and smarter. This product is ideal for both e-commerce and office shippers looking to save time and space by streamlining their processes and eliminating unnecessary equipment. Plus, it can save users money as it provides a discount of 3 cents on First Class stamps, up to 89% on USPS Priority Mail and up to 82% off UPS standard rates."
By completing all the necessary tasks beforehand, you'll skip the post office line and allow yourself to focus on more profitable endeavors. You can also track parcels throughout their shipping journey with data that can be shared with customers for a smooth shipping experience.
Streamline Software
A quick and easy way to increase productivity and efficiency is taking advantage of technology like software as a service platforms. Particularly true in this age of hybrid and remote workers, cloud-based communications software can keep your team members on the same page, regardless of their location, to help your company keep up with important information such as ever-changing carrier rates to quickly identify the best shipping and fulfillment options. With available platforms that combine team messaging, video conferencing, task management, file sharing and storage, it can be simple to stay connected with your employees. Additional cloud-based software for everything from payroll to word processing and graphic design is also readily available to help further streamline your business's technology. Knowledge is power and combining all this information in one place can give you greater control over your organization as a whole.
Learn from Your Customers
When looking for ways to improve, start by asking your customers for honest feedback. Creating customer satisfaction surveys provides you with a fresh perspective while giving customers a voice so they can feel valued. Plus, it can help you build a rapport with customers as they know their voices are heard while you discover what's working, what isn't and ways you can improve the business.
Find more solutions for improving your productivity and efficiency in the workplace at pitneybowes.com.
Photo courtesy of Getty Images (businesswomen)


SOURCE:
Pitney Bowes