This post was originally published on this site
(Family Features) Starting your career can be both an exciting time and a daunting experience. While there's no secret formula to becoming successful in the workplace, there are steps you can take and skills you can build during the early stages of your career that can help you move toward your long-term goals.
Many young professionals face unique challenges, but with the right guidance and advice those obstacles may lead to opportunities for personal and professional development. Passionate about mentoring young professionals and sharing her methods for success, Morgan DeBaun, founder and CEO of digital media and technology company Blavity, partnered with Sharpie – makers of a wide selection of permanent markers, pens, highlighters and more for the classroom, office and home – to share these tips.
Be proactive: Take initiative and identify areas you can contribute beyond your assigned tasks. Instead of waiting to be asked to do something, draft an email, spreadsheet or project board that could benefit the team. Showing a willingness to go above and beyond may lead to additional projects or responsibilities being sent your way in the future.
Write everything down: Putting your dreams and goals to paper can help you commit to them, track progress and stay on course to achieve them. Additionally, particularly in meetings, your brain is processing new information, ways of thinking and operational systems all while you are trying to come across as engaged and personable. Jotting down key action items and learnings along the way can save you later. Being an active listener and note-taker can increase your ability to retain information and contribute to your team.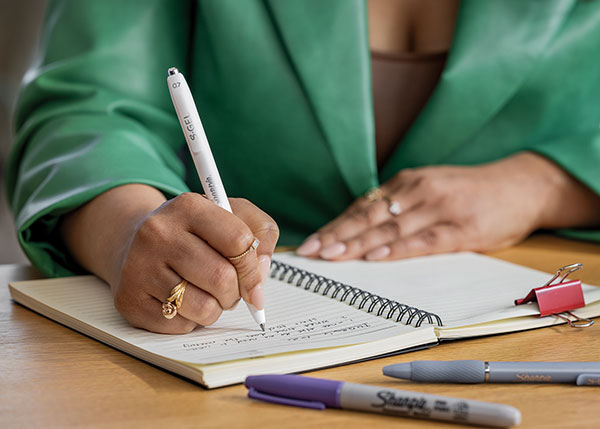 Featuring no-smear, no-bleed technology with best-in-class ink, an option like the Sharpie S•Gel pen promises exceptionally smooth writing experiences. To put her best work forward, DeBaun uses the Medium Point (.7mm) White Barrel. The high-performance gel pen enhances handwriting with its sleek, professional look and offers a variety of ink colors, barrel styles and points to choose from, making it a must-have for professionals looking to make a statement.
Identify useful productivity tools: Look for tools and programs that can help make you more productive and successful then leverage them in your personal workflow. Whether it's an email scheduling tool, calendar software or favorite writing utensil, ensure you are taking advantage of things that can help you succeed.
Develop and strengthen your organizational skills: Regardless of what role you are in, being systemized and structured in the way you work can help keep you on track as you grow in your career. Whether it's a smartphone app, old-fashioned to-do lists on paper or desktop reminders on your computer, find a system that works for you and stick with it – refining the approach as you go – for best results. For example, with a variety of available ink colors, the Sharpie S•Gel can make it simple to color code calendars and to-do lists, which can make prioritizing tasks a cinch.
Embrace teamwork and learn from your peers: Across your company, you are likely working with bright, talented people who may have completely different skill sets and ways of working and thinking than you. Set up 15-20-minute virtual coffee chats to meet people not on your team during your first 90 days as a way to connect with your coworkers and learn more about not only them but the company and its environment as a whole.
Say yes to opportunities: Whether it is a work event, new project, meeting or class, take advantage of prospects presented to you. Taking advantage of opportunities to network, learn and grow in your career can help lead you on the trajectory you are aiming for.
Find the must-have tools to set your career on the right path at Sharpie.com.


SOURCE:
Sharpie