Before the calendar officially announced summer, the heat was already oppressive in South Texas. One of the biggest challenges for career women is how to look professional, savvy, sharp, and stylish when humidity causes the air to "feel" 108!
Dillard's reminds local women to not forget about dresses; the best way to beat the heat and go beautifully from day to night. "We are the overall best place to find any dress for any occasion," said Alice Marks, Southwest Division of Dillard's. The retailer confirms they sell more day dresses during the summer, and more for social events in the fall.
Many lines have expanded their sportswear and now include dresses; such as, Alex and Marie and Gianni Bini.   For dresses, Marks also recommends Tahari, Ralph Lauren, Eliza J, and Jessica Howard. For special considerations, she recommends the following lines:
For shorter lengths – Eliza J, Gianni Bini
For longer lengths – Jessica Howard, Ralph Lauren
For petites – Jessica Howard, Tahari
For plus sizes – Jessica Howard, Tahari, London Times, Eliza J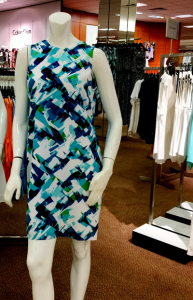 Summer 2016 designer trends for dresses include flyaway, shirt, bohemian, and lace influences in styles. Sleeveless dresses continue to be the most popular. Many designers will not add sleeves because they may take away from the modern look of the dress and limit motion.   On the business scene, most will style a professional look with one of the many colors and designs of jackets or cardigans found in Dillard's sportswear. Other options to cover arms include cover-ups of knits, lace, and chiffon.
Find these brands at Dillard's locations in The Shops of La Cantera, North Star Mall, Rolling Oaks Mall, or Ingram Park Mall and think dresses to stay cool.
-By Pamela Lutrell