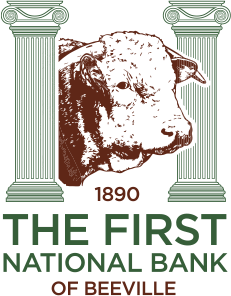 Address
125 TX-46
Seguin, Texas 78155
Overview
Always first in customer service.
The First National Bank of Beeville is an FDIC-insured bank committed to providing our customers the best account products and options with the greatest possible customer service. We primarily serve Bee, DeWitt, Guadalupe, Corpus Christi, and the surrounding Texas counties.
Locally Owned and Operated for 125 Years
The First National Bank of Beeville first opened in 1890. Prior to that, local residents' only "bank" was a loose floorboard at the general store. It's safe to say we've been with you since the very beginning. We're proud of our history as a cornerstone of this region for 125 years.
Though we've been with you since the beginning, we never rest on our laurels. We remain dedicated to enhancing the future development of our region by embracing technological advances, while adhering to our longstanding values.
Our Philosophy
While we offer a wide array of bank services to individuals and businesses, we've been able to boil down our philosophy to five S's:
Safety, Soundness, Security, and Service … with a Smile!